Liberal, energetic and excited as the waves
Waves, a symbol of the movement to reach new heights, not to be lulled by the successes already achieved. In other words, waves never stand still, current challenges have become an important lever for Sailing Club Leisure Group (SCLG) to create an unmistakable personality for each managed restaurants, clubs and resorts by this brand.
The core of the Sailing Club is beach life, attached to sea sports. Over the past 25 years, Sailing Club's imprint has been present in most of the most beautiful beaches in Vietnam such as Nha Trang, Mui Ne, Cam Ranh, Ho Tram, Phu Quoc and soon Ha Long. The ecosystem of this brand also expands with 2 outstanding service segments. On the one hand, Sailing Club still pursues entertainment tourism services, which are sports clubs (surfing, beach kitesurfing, scuba diving) and unique culinary brands such as Louisiane, Sandals and Soul Bowl.
I came to Vietnam at the right time when the country started to open up, especially the tourism industry was taking its first steps but full of potential

Peter Vidotto
President – Sailing Club Leisure Group
Who they are?
The Sailing Club Leisure Group is a Hospitality development and management company that challenges the status quo to create hospitality brands with a real personalities. They offer a full array of services to efficiently manage the day-to-day operations of guests' investments. From concept to launch and branding to management, they deliver operational guidance and internal services that allow hospitality outlets to run smoothly, maximizing profit as well as enhancing the guest experience.
Our success is powered by a blend of unique strengths: A true passion for hospitality, Expertise in crafting unforgettable experiences, Independent property aptitude and Portfolio of successful brands.

The Sailing Club Leisure Group
Not every brand can create its own style after 25 years of operation like Sailing Club. The success of this brand is the resonance of creative inspiration and trendy class that has been positioned since the first days of entering the Vietnamese market. From founding their first wildly successful beach bar in 1994, The Sailing Club Leisure Group's portfolio has expanded to include multi-award-winning bespoke hospitality brands, such as World Luxury Restaurant Awards, World Luxury Hotel Awards, Asian Lifestyle Tourism Awards, Travelers' choice from Tripadvisor and more.
"We make the holidays perfect"
The liberal lifestyle inspired by the waves, the sky, and the beautiful seas is reflected in every design line of the resorts, as well as the way this brand serves customers through food, entertainment branded Sailing Club.
The echoes of oceanside living blend with a modern design aesthetic that is evident in the design of the resorts and restaurants managed by the Sailing Club Leisure Group. Those are spaces that harmonize with nature – where closed concrete slabs are replaced by green cushions and transparent glass, bringing guests back to their original life. Those are furniture made from rattan, jute fiber and rustic wood, creating a rustic, friendly connection, honoring the local culture. Those are liberal colors – the white of the sky, the blue of the ocean, dotted with strong personality tones to enrich the visitor's visuals.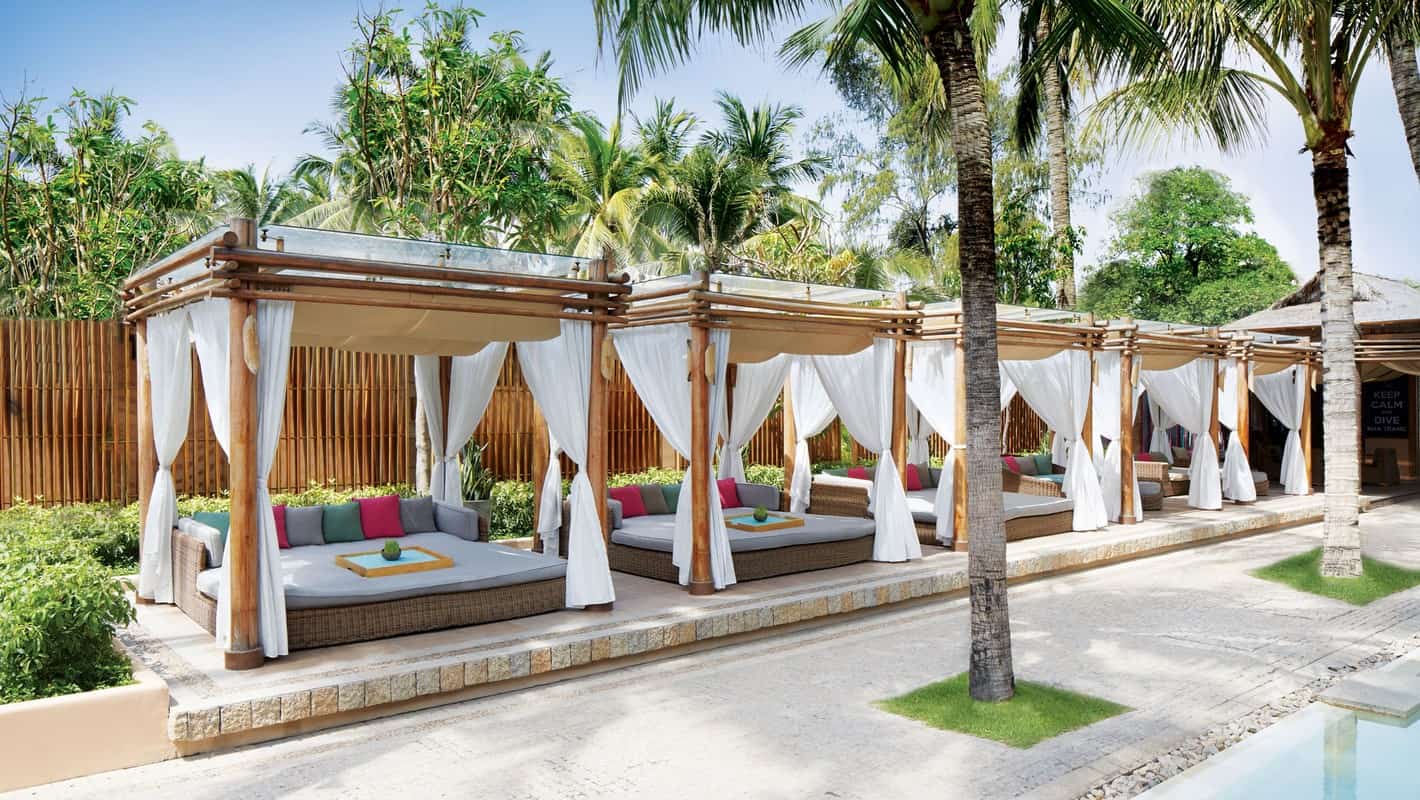 If the first impression of Sailing Club is confirmed through the architectural form, creative culinary experiences or trendy entertainment is also make the holidays perfect. Stop by Lousiane draft beer restaurant on the beachfront of Nha Trang, enjoy a glass of Witbier fermented according to the esoteric Belgian recipe from brewmaster – Sean Symons. In addition when you have the opportunity to come to Phu Quoc, don't forget to spend an afternoon at Sailing Club Phu Quoc to watch the sunset gradually fall, enjoy seafood cooked in fusion style by chef Jacques Buys to the music of Lo-fi by the DJ…
As revealed by this unit, the Sandals restaurant that is about to go into operation at Sailing Club Signature Resort Phu Quoc will be a completely new concept, promising interesting experiences for visitors. Along with the fresh food dishes delicately arranged in the open space, it will become a culinary rendezvous for the villa owners. Buy and cook at home, enjoy the culinary taste in the open-fire kitchen, order food to each villa at any time – will be diverse options for visitors when coming to Sandals.